Where to find internship positions!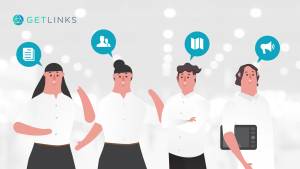 If you're in the process of preparing yourself for the working life, internships can help a great deal! Experiencing an internship allows you to dive deeper and get to know the working process in the real world more, and helps you prepare for your first ever job! 
An internship can also help you find out the career path that you want to continue to grow in, whether you like a certain way of working or prefer something else entirely. It's important to gain experience and learn about your likes and dislikes so that you can get ahead and plan your future career goals. 
Though, if you're wondering where you could possibly look for internship opportunities, we've got you covered! We've got 4 GetLinks tips on where you could go and look for different internship opportunities to discover yourself. 
Internship Groups (Facebook & University Groups & LinkedIn Openings) 
With the growing digital age, job opportunities are always online! An easy trick to find internship positions is that you can check different Facebook groups where hirers are often posting into the group to find their perfect candidate. Your university or your faculty Facebook groups are important too! Mostly, working graduates will share open intern positions in these groups to find people to work with them, so keep an eye out for that! 
Apart from Facebook groups, you can always find internship opportunities on LinkedIn openings. Just be sure to complete your profile and fill in what job titles interest you and the algorithm will show you what fits you best. 
Online Job Board 
Discover endless internship opportunities within one click on online job boards! Online job boards usually gather all kinds of job openings in one place, making it easier for you to browse through different positions and find the one that piques your interest the most. 
GetLinks' job board does the same, and you can put on the 'Internship' option to filter out other job openings to focus on open internship positions. This is easy, quick and can often apply from the website itself. 
GetLinks' Internship board: https://jobs.getlinks.com/SearchJobs?keyword=internship 
Career Fairs 
Career fairs are great for creating connections and a great place to look for internship opportunities. Many companies are in one place, making it easy for candidates to browse through and get to know many companies in one day – to look for the perfect internship for yourself. 
Recruitment Consultants 
If you are not sure where to get started or cannot seem to find the right internship opportunities for yourself, GetLinks' Recruitment Consultants are always on standby to help you look for the perfect opportunity. GetLinks' Recruitment Consultants will introduce you to the perfect opportunity and help make the process easier for both you and the company. Leave it to GetLinks' Recruitment Consultants to fetch the best job opportunities for you. 
GetLinks Open Internship Positions 
GetLinks is open for internships! Come join our team to experience the real working experience and earn new knowledge on the Tech Industry! Here are the open intern positions you can easily apply for: 
Business Development & Sales Intern 

Marketing Intern

Content Intern 

Graphic Design Intern

Video Editor Intern

Marketing Communications Intern (LINKS TOKEN) 

Recruitment Consultant intern
At GetLinks, we act as an ecosystem for tech talents. Feel free to contact our Recruitment Consultants to get started on the IT industry job hunt, where you will be matched with the companies that are perfect for you. 
And if you are looking to explore open options, feel free to check out our AI Job Board with many open tech positions. Explore your endless possibilities with GetLinks!