Prepare your Career for 2023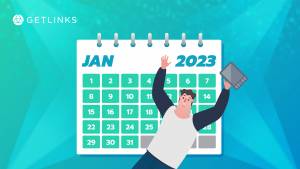 2022 is ending soon, let's look forward to preparing your career in the year of 2023! 
Before moving forward to the new year, let's take a look at what happened in the year 2022. 
COVID-19 became the new "Normal" 

Web3 

Immersive-reality Technologies 

Trust Architecture & Digital Identity 

Next-generation Software Development 
Now that we've seen how people have adapted to the new normal after the COVID-19 situation, here are some of the trends in 2023 that GetLinks' Recruitment Consultants predict will be happening in the career market!
Hybrid Working Will Become the New Normal 
After the COVID-19 situation, hybrid working has become the new normal and everyone has adapted to remote working – many companies also started implementing Hybrid Work, per month or per week. Hybrid working protocol has become an important benefit for employees, becoming the top priority for talents to consider when getting a new job offer. 
With the new working patterns, talents are looking for new working experiences and is something that many companies are prioritizing from the end of this year into the next year. Companies are now implementing new benefits that go well with the needs of the newer generation. For example: Flexible working hours, buying additional gadgets & providing Work from Home benefits! 
Health & wellness has become increasingly important in the working life. Companies are now putting importance on their employees' well-being, to minimize stress with perks such as: psychologist sessions or even physical therapy sessions. 
The labour market is growing each year, however, companies are looking for the right talented candidates to accept into their team. If you're curious on how to be the talented candidate companies are looking for, read along for more tips! 
Becoming a Talented Candidate, you must: 
Upskill
Upskill is when you elevate the skills you already have into something more expertised! This way, it helps you grow career-wise and know that you're an expert in your field. 
Reskill 
Additional new skills that you can add and learn, which can be the skills that the world labour market is looking for. This can help you if you're ever looking to change your career path into something completely different. 
Simple ways to Up & Reskill 
New learning opportunities (E-learning & free courses) 

Explore podcasts (new information) 

Find a virtual mentor (LinkedIn & Facebook groups) 

Attend virtual events, workshops & conferences!
Soft Skills are also Important 
Don't just focus on the hard skills when you're trying to become a talented candidate, you need the soft skills as well! Here are some soft skills that GetLinks' Recruitment Consultants think are important: 
Communication 

Creativity 

Analytic & Critical Thinking 

Flexibility and Adaptability 
And last but not least, when looking for a job – be a proactive job seeker, instead of a reactive job seeker. What are the differences? The proactive job seeker finds the company they want to be a part of and approaches accordingly, while the reactive job seeker applies to any open positions that may fit their likings. 
You can learn more about proactive vs. reactive job seeking from here
Step in 2023 with GetLinks! If you're looking for a job for the new year, feel free to hit up our Recruitment Consultants that can help you find the right job easily. 
Good luck with the Job Hunt and see you next year! GetLinks is always ready to help.