Tips on finding jobs for the New Year!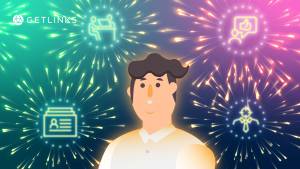 Welcoming the new year, we believe that many people may be looking to move forward with new careers. GetLinks is here to greet you a very happy and prosperous 2023, with a few tips on Job-Hunting strategies. These strategies can help simplify your journey in changing jobs – helping you land the right job that fits you like a glove! Let's take a look at what some of the strategies may be. 
Make finding work easier with the help of online job boards, where you can browse through a variety of jobs at the tips of your finger. GetLinks has our very own job board that has a lot of positions available from well known companies to even startup companies, you can go through the industry of your choice and browse through the different job options! 
You can access GetLinks' job board here: https://jobs.getlinks.com/ 
Prior to looking at jobs on GetLinks' job board, it will be easier to navigate through the job board once you have registered for a GetLinks profile! Your saved companies will be displayed to you personally, and we also have a 'Smart CV' option, where you can automatically generate your CV after filling out your profile. 
Furthermore, if you want to create a CV by yourself, GetLinks has a free CV Clinic session, which you can easily book on https://getlinks.com/en! 
If you're starting out and looking to learn more about the job market you're interested in, an online job board is the perfect place for you!
Are you someone that prefers having a consultant right by your side when you're looking for a job? A job-hunt strategy that is the perfect fit for you is to have a Recruiting Consultant, a helper who will help you find the right job. 
A Recruiting Consultant will usually have a meeting with you, or have a talk with you to know more about what type of job is in your preference. After the Recruitment Consultant knows your preferences or what you are looking for in a new job, the Recruitment Consultant will contact you when they find positions from different companies that might fit your liking, presenting the job availability to you. 
This helps you shorten the process of going through endless numbers of job openings, and only filtering through the job positions that are potential fit for you. GetLinks also provides Recruitment Consultants service, to help you find the right job, at the right company – and to bargain your desired salary for you! If you're looking for a Recruitment Consultant, don't forget to contact GetLinks to help you with your job-hunting strategies. 
Apart from the common ways of the online job board and a recruiter, referrals hiring exist and companies use their own employee referrals to hire new staff! This is usually because the companies trust their own employees' judgments – and this can help make the hiring process a whole lot quicker and easier.
However, this kind of hiring process is not quite common at all, but you should feel free to contact your trusted friend if their company currently has an opening that you may be interested in. If you and the position available seem to be the perfect fit, your friend would recommend you. It's a win-win situation, you get a job and your employee friend receives a finder's fee, if they give good referrals.  
Every year, there are going to be job fairs for candidates like you to attend! This is especially great for a job-hunt strategy since all the potential companies are gathered in one place for you to walk around, get to talk to different companies in one day. This gives you the time to get to know each company while keeping your options open! 
 Not only are job fairs hosted offline, but there are also online job fairs now! In the year 2022, GetLinks hosted 2 virtual Tech job fairs for tech talents and companies connect without borders in our virtual Job Fair. 
Meeting companies at Job Fairs can help you, as a candidate, and companies create impressive first impressions on each other. 
If you're interested in joining virtual Tech job fairs, be on the lookout for GetLinks' next virtual job fair, see you soon! 
Looking for a new job for the new year, connect with GetLinks! We have an online job board and Recruitment Consultants on standby to help our candidates. For now, we also have free 1:1 CV Clinic sessions available for candidates to receive personalized suggestions to create your best CV! 
Happy job-hunting, and GetLinks is here for you through the process!