How to give yourself more exposure as a Developer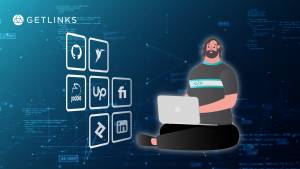 Getting started with job hunting may seem intimidating but it's not as difficult as you think! GetLinks is here with 5 simple tips to help you give yourself more exposure to job opportunities as a Developer! 
With the digital era, job opportunities are at the tips of your fingers, especially now that talents and job openings are mostly spread out in the online world. If you want to know how you can gain more recognition for yourself as a Developer, come read along and follow these 5 simple tips! 
Complete your LinkedIn Profile
LinkedIn is incredibly important since most of the hirers are on the platform! Make yourself seem prepared and ready to work by filling in your profile, putting up your skills and certifications – this way, when a headhunter or a hirer wants to know more about you, you have all your information ready! A complete LinkedIn profile gives the users more chances to be contacted by the hirers. 
Be Present on Freelancer Platforms
If you are someone who is looking for a remote working environment or the freelancing working style, make sure you have your profiles on freelancer platforms. It has been a rising trend among the current talent market, where talents prefer freelancing gigs to have more flexibility in their working routine – and companies are often looking for talents to join their team on these platforms. It is always an advantage to have your profile up and ready. This opens up more chances for you to be seen by people. 
Here are some of the top freelance websites you can access: 
Take Advantage of GitHub 
GitHub is a platform where you can showcase all your projects, so it is always a good idea to be active in this community! Hirers are now present on GitHub in order to find the right talent for their teams as well by running a search based on skills or languages required for their job openings. Make sure that you have the skills, languages and codes available on your profile and enough information for the hirers to contact you as a Developer. 
Attend Bootcamps or Training Programs
Coding Bootcamps are more advantageous than you might think, since it is a community that brings aspiring developers together – and usually bootcamps last from one week and some to over six months long. 
The training programs will make you become a skilled developer, which can help developers land job offers quicker by companies! 
However, bootcamps and training programs are often paid with a fee, so if you have a budget set for this, it is incredibly beneficial to join these communities, since you will be making a lot of useful connections and will expose yourself to a variety of job opportunities as well! 
Join Career Fairs
An important way to build good relationships is through networking at Career Fairs! If you're looking to get yourself hired or be known with companies you are interested in, attend job and career fairs – you will be able to talk to different people and the companies that are joining the fair. This way, you are establishing meaningful connections for yourself in the future. 
If you are a developer and are interested in joining a Career Fair, GetLinks is holding a Virtual Job Fair on Gather town! Free entry for everyone. 
GetLinks' Tech City: Dev Day 🎉 
🗓️ 24 – 25, November 2022
⏰ 10 A.M. – 5 P.M.
🖥️ GetLinks Tech City on Gather Town 
Feel free to look at our social media to stay updated on the Virtual Job Fair from GetLinks!