LINKS TOKEN Official Listing on XT.com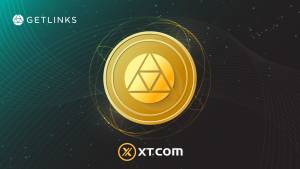 LINKS token is Asia's first and leading remuneration token optimized for all types of work from traditional to the migration shift of talents and opportunities into Web3.0, powered by GetLinks' proprietary blockchain technologies made for the work and education ecosystem.  GetLinks.com is today Asia's leading talent matching platform serving all startups to industrial companies on their Digital and ESG transformation.
GetLinks.io blockchain team builds and facilitates the LINKS token economy, voting mechanisms, and settlement features for all client partners' employee payment, remuneration and retention needs.  Our partnering clients now get to offer their products and services to the 'entire workforce community' owned by and managed by all our partnering clients, while employees using their performance points can easily settle purchases on LINKS marketplace, completing their mission in helping talents seek earning opportunities and upskilling better, to subsequently spending better and smarter.
With the first year of successful trading history, LINKS reached CoinMarketCap's top 5,000's ranking and has never fallen below IDO original price.  LINKS token started trading on the decentralized Binance Smart Chain and is now progressing and expanding internationally via the centralized XT.COM exchange.  As GetLinks core business is facilitating all workers with their remunerations and purchases, we selected XT for their overall high performance matching engine, ensuring any trades are executed with least latency and strong security measures.
GetLinks is very pleased to inform everyone that LINKS TOKEN have successfully listed on XT.com, and it's trading up a healthy 12% as we speak.  Nice and Steady on the price.
The GetLinks.io team is immediately focusing back on the project, use cases, and building up real partnerships.
Don't forget to stay tuned for more updates and perks regarding LINKS TOKEN. Thank you for everyone's support once again!
Trade: https://www.xt.com/trade/links_usdt 
Farm: https://app.getlinks.io/farm 
Market: https://market.getlinks.io
Whitepaper Link: bit.ly/31xLgC1
Facebook: facebook.com/LinksToken/
Website: getlinks.io
Medium: medium.com/@linkstoken
Links Market: market.getlinks.io
Community: t.me/LinksToken
Community(TH): t.me/LinksTokenTH