Tech Spotlight Recap: MSyne Innovations and Orisoft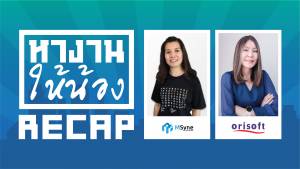 Welcome to GetLinks' Tech Spotlight Series for "Har Ngarn Hai Nong 2022 (หางานให้น้อง)" University Career Campaign where we will be getting to know all the top tier tech startups of Thailand and their opening positions!
Let's start the fifth week with MSyne Innovation, expertise in Big Data solutions. Also, get the information to know more about Orisoft, online HR Management, and how their system works.
EP.10 What is Big Data & Data Analytics
MSyne Innovations – A leader in Big Data Solutions and Data Analytics Services provider. 
MSyne Innovations was established in 2018 under MFEC Group. The milestone of MSyne Innovations is to be a top selection for Big Data and Data Analytics service providers.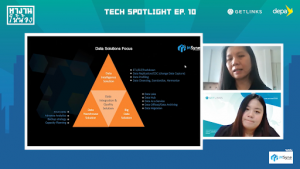 Speaker: K. Usanee Khamlasai (Professional Service Director)
She talked about her company, established at the end of 2018, had the delta healthcare project for Thailand Governance, and the company is behind the success of many companies. And she mentioned the Mspire Academy for fresh graduates interested in Data Management. Also, she told us about Big Data Solutions. In the Digital Data era, the data can happen everywhere, whether offline, online, etc. If we blend the data beyond the Database together with used cases will make the innovation.
Senior Advice
If you want to do a job, do it with your passion and what you like, so you don't have to worry about the allowance, but the important thing is experience.
If you want to know more about Big Data Solutions or Msyne, don't forget to check it out! 
https://www.youtube.com/watch?v=1V0E26bHbRQ&list=PL4XgCFdx0n1bfnzdejBOcncsPZzCNH2D9&index=10
Join Msyne Innovations Here! https://jobs.getlinks.com/company-msyne-innovations-jobs/1
Data Analyst/ Business Analyst

Data Platform Engineer

Data Engineer

Test Manager/ Test Leader

Project Manager
Ep. 11 The new trends of finding and applying for a job.
Orisoft – We reinvent human interaction with technology
Orisoft offers a complete end-to-end suite of HR software management and payroll outsourcing solutions. HR innovative software and solutions empower businesses to strengthen their organization capabilities and streamline their internal processes. The suite includes Human Resource Management Software, Time & Attendance Management, Payroll, Employee Self-Service & Workflow, and Business Analytics & Reporting.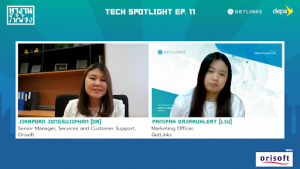 Speaker: K. Jiraporn Jongsujiphan (Senior Manager, Services and Customer Support)
She talked about the network of 49 offices in 22 markets across the globe. The company focused on HR. And core software of Orisoft supports HR, which is the base of all organizations, like allowance, working time, etc. Also, Orisoft extends HRD of HR users in employee development, training, evaluation, etc. Moreover, employees can use Orisoft's software for vacation, leave, checking salary slips, etc.  Furthermore, Orisoft's application Unify HRS, which they developed by themself, uses a database that you can use the application everywhere by User login. 
Senior Advice
In this field, the core positions that we want are application consultant, engineer, and software engineer developer; however, we focus on the implementer, which requires two parts of skills, technical term, and management skills. For fresh graduates who are not sure about a Tech job directly, the implementer position can be a good fit for you because it requires you to use technical abilities and allow you to improve your soft skills.
Get to know more about Online HR, and how AI works in HR management. Watch it now!
https://www.youtube.com/watch?v=fNeTEg4rdLk&list=PL4XgCFdx0n1bfnzdejBOcncsPZzCNH2D9&index=11
Join Orisoft Here! https://jobs.getlinks.com/company-orisoft-(thailand-co-,-ltd–jobs/1
Software Engineer – Web Developer

Application Consultant

Sales Account Manager