Tech Spotlight Recap: LivingOs/Whatnot Startup Studio/SevenPeaks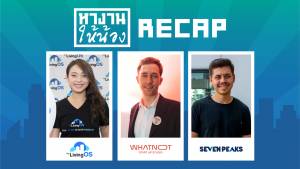 Welcome to GetLinks' Tech Spotlight Series for "Har Ngarn Hai Nong 2022 (หางานให้น้อง)" University Career Campaign where we will be getting to know all the top tier tech startups of Thailand and their opening positions!
We had The LivingOs on board with us, getting to know why they are the "Smart Residential Solutions". Getting to know more Whatnot, going deep into the Startup studio, and giving an answer about what a startup studio is and what they do. 
EP12 Smart home solutions with The LivingOS
We are the leading property management solutions provider to deliver people's better quality of life. 
The LivingOS Co., Ltd. is a fast-growing technology company with its core strengths in Smart Residential Solutions. As of 2019, the company has affirmed its position as a market leader in the real estate market with more than 700 Properties and 500,000 Units under Management already using The LivingOS Property Management Software.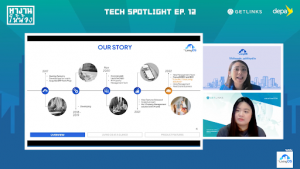 Speaker: Thanawadee Chiawchanchokchai (CEO)
She discussed the LivingOs app, which was intended to provide services for residential solutions such as cleaning, maintenance, housing extension, etc. And the LivingOS has a strong desire to improve the Living Tech. 
Also, the LivingOS application has connected with partners to offer solutions for juristic person requirements. So, the platform engine is large and has completed solutions. Moreover, we provide services to residents, like electricity bill management, communities, etc.
Senior Advice
We need a person who has potential for developing yourself, which comes with being brave to face the challenges and has the art of living.
To know more about the interesting application from the LivingOS that directly serves you a smart home solution. Click it now!
https://www.youtube.com/watch?v=TgdrAM8lcjI
Join The LivingOS Here!
https://jobs.getlinks.com/company-the-livingos-jobs/1
Customer Services Officer (Handicapped)

DevOps Engineer (Platform Team)

.Net Developer

Python Developer

React Native Developer
EP13 What is Startup studio with Whatnot
We are an idea powerhouse building startups for nature and culture.
We aim to create multiple startups designed to shape the world the way we want to see it after we leave it. The world with a balance between nature and culture.
A startup studio, built by entrepreneurs that are always filled with ideas and drive to make them happen. And we just share the same roof called Whatnot to enable us to do more than we could do alone.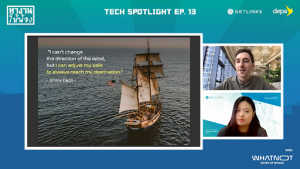 Speaker: Kastytis Kemesyz (CEO and Co-founder)
He talked about his business and gave information about a startup studio and how it is different from a traditional studio. Whatnot studio came up with its idea and started everything from zero. So, a startup studio would have operations that run the business, and sharing resources makes it efficient. Moreover, the concept is "you can't change the direction of the wind, but you can adjust your sails to always reach your destination" because the world changes so quickly, and you can try multiple ideas, learn, and then change accordingly.
Senior Advice
First of all, it's trying to be not afraid of failure, not to be afraid of chaos, and to be unafraid to try new things even though you are not ready. And being proactive about something as stupid and won't work, so find any reason why and find a better way. Also, being proactive and expressing your opinion and if you think that you can always try to be better and being unafraid to try and stand up against failure.
Get to know about startup studios and Whatnot do more, don't hesitate to click! Check it now! 
Join Whatnot Startup Studio Here!
Junior Entrepreneur in Residence 

Content Genius
EP14 Seven Peaks Software
Your trusted technology partner digitizing businesses
Delivering managed product teams and building modern & scalable end-to-end software solutions that are designed to solve your business needs.
Seven Peaks Software is a technology company founded and managed by software engineers. As a software engineering first company, they take pride in providing high-quality software services for their clients and they are continuously working towards this goal as a leading software house and software company in Thailand. In 2014, Seven Peaks Software was first established in Bangkok, Thailand. And Seven Peaks Software quickly started expanding its business in Thailand and throughout Southeast Asia.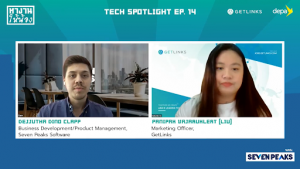 Speaker: Dejjutha Dino Clapp (Business Development/Product Management)
He talked about the high-quality management team that has experienced more than ten years. And they want to be your trusted technology partner for clients and employees to believe in them. Usually, their production is Product Development, so we usually start a project with technology consulting. We can figure out this is a subject for the clients and why their product wants to be.
Also, he talked about Application Services: end-to-end application services guiding through all stages of the application lifecycle, for example, Mobile Applications and Web applications that can help any clients. 
Seven Peaks has many advertising things like application and processing. Don't forget to check it out. Click!
Senior Advice
For developers, you need a background in computer science and a background in specific technology languages. That's you, but you also need more passion for technology. For example, I am Business Development and Product Management, but at the same time, I have a passion for business, technology, and product. Seven Peaks wants to see the labor of passion and the labor of interest in building a product and not just look at the technical skills.
Join Seven Peaks Software Here!
https://jobs.getlinks.com/company-seven-peaks-software-jobs/1
Senior .Net Developer

Senior iOS Developer