5 Things to Do on Your Last Day of Work

You're right at the finish line.
The resignation has been given and your coworkers might have organized a goodbye party for you after the workday is over. Before your mind moves to what you'll order for dinner to celebrate tonight, make sure you go over our list to make sure those little loose ends are nice bows. The aim of this list is to end the day with positive professionalism, not a landscape of burning bridges. So, don't forget to…
1. Get Your Stuff, Digital and Physical
Much like your apartment or the back seat of your car, your workspace probably has gathered a lot of stuff, both personal and professional, over the time you've worked at the company. If you haven't taken time over the past week to sort through it all, now's your last chance to make sure your favorite mug or comfy pair of office slippers get to the new office, or back home.

Definitely go through ALL your files on your computer to not only ensure you have what you need, but so others can find the files you've worked on if they should need it. It might be as simple as creating a folder with your name on the company server or Dropbox or maybe you need to zip it all up and send it to your superior. Whatever the process, don't forget that you might need a copy too, whether for your portfolio or for your own records. (But do pay attention to any stipulations in your contract about using company files outside of company matters.)
Physical Places to Check One More Time:
Your desk

Shared drawers, cabinets, or other communal spaces

Your work computer, phone, and/or tablet
Physical Clean-Up Tips:
Dispose of/recycle waste considerately and appropriately; don't assume your replacement or the janitor will take care of it

Properly file or give the physical documents to the people that will need it

Wipe down your desk and computer

Don't take anything that wasn't yours, to begin with. Ok, office supplies are sometimes in that grey area, but if you want to end positively with the company, it's best if you don't steal their equipment.
Digital Clean-up Tips:  
Have an automated message set up from your work email account saying that you've left the company and who their new contact will be

If you have an expense account, make sure payments and any auto-pays are settled or under a different account

Log off and delete all personal accounts and files off the work computer

Keep or forward copies of important emails

Clear browser history

Clear the trash

Log out from everything

Leave a list of logins for work-related accounts

Don't forget to give back any company equipment if that's the agreement
Take a copy of your business contacts if your agreement allows it

2. Watch What You Say

Let's have your last day of work be a nice one, ok? Your freedom from the company might encourage you to speak your mind but you never know who you'll work with in the future. And if you have a new job ready for you, this isn't the time to start boasting about it. It can create resentment with remaining coworkers as well as make you look pompous. This is about keeping positive business connections for possible future projects. Even if you don't care about connections, reputations can follow people around, especially if you're going to work within the same industry as the old job.
And that farewell party or dinner that's happening later? Don't let those drinks sabotage your professionalism either. It might be a more relaxed atmosphere, but you're still on company time.
3. Make Sure Your Projects are Settled

We're assuming that you've been using the last few weeks at your job to try and finish what you can in whatever projects you are involved with. If you need to hand off your work on the last day, it'll make the team's transition easier if you create notes or instructions of what your process was to complete your tasks. It's also good to schedule a short meeting with your boss and colleagues to discuss where you've left things, digitally and physically.
You need to also inform colleagues outside of the office, like vendors or manufacturers, that you're leaving and who to contact instead.
4. Check in with HR
Don't forget to ask about the state of your health insurance, reimbursement claims, and/or retirement fund. That's a lot of potential money that you could still possibly use, depending on how everything is structured. You might also need to rollover accounts to the companies that your new company uses. HR will have the information that will make that transition easier.
5. Say Goodbye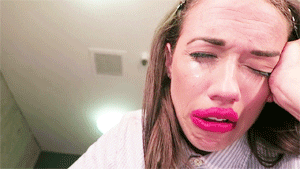 Everyone knows that today is your last day of work (or at least they should by now) and to ensure it ends on a good note, directly see and thank the managers and coworkers you've worked with. You don't have to suddenly be everyone's best friend as you're leaving, but trading emails or adding each other on LinkedIn are great ways to leave a line of contact and do a little networking. Plus, hearing that someone enjoyed working with you is always a nice little positivity boost.
If your team is large or if you've been involved with projects on a larger scale, a company-wide or team-wide goodbye email may be appropriate as well. You might want to do this anyway regardless of your team size. Written in an optimistic tone, this email is also a great way to reach out to people that you may not have worked with directly but want to maintain a professional relationship with. You can also add your contact information in the message in case they have questions about your projects or just want to keep in touch.
Don't forget to say goodbye to the boss! This is especially good to do if your company doesn't have exit interviews. It can become a nice opportunity to discuss career advice and end your professional relationship on a good note. If you do need to have an exit interview, honesty is always good, but any issues you have should be presented as constructive feedback more than just complaint.