Intern Sharing – Marketing Content Creator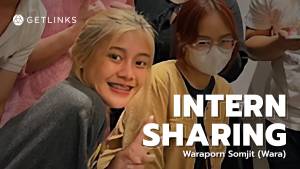 Introduction
My name is Waraporn Somjit, but you can call me Wara. Currently, I am studying at Mahasarakham University, Faculty of Humanities and Social Sciences. After completing my internship at GetLinks, I have finished my studies.
Describe your intern positions at GetLinks 
Currently, I have the opportunity to intern with GetLinks in the Marketing team. The job involves creating content for platforms such as Facebook and TikTok, and occasionally participating in events as well.
Why have you chosen to intern at GetLinks? 
In the past, I have mostly worked part-time jobs in the service industry. Therefore, I would like to try something that I have never done before, in case in the future, after I graduate, I decide to pursue a career in this field.
Share the things you've learned from your internship with GetLinks
I have learned about the work culture at GetLinks. In our society, there is no micromanagement, and everyone is responsible for their own tasks. As for the team, we follow a system where we plan our monthly activities, determining what needs to be done, deadlines for each task, and when to deliver the completed work. We also have regular updates with our team members, informing them about the progress of our work and seeking advice or guidance from them on our processes.
Compared to the past, how did GetLinks help develop in terms of your working style?
The main principle in our work is that everything needs to be planned and organized.
As interns who are about to enter the working age, how do you picture your future corporate culture?
I would like to have a work culture similar to GetLinks, where there is no micromanagement and tasks are submitted before the deadline. It is a supportive environment where team members help and support each other.
Any Advice for the Juniors Growing into This Spot?
I wish for all the students who aspire to intern in this position to overcome their fears and lack of confidence, even if they haven't extensively studied this field before. Because I have never studied this field extensively before, I secretly worry whether I will be able to do it, whether I will have the courage to do it, and whether the outcome will be good or not. However, once I actually start working, I realize that I can do it. And I believe that these experiences will be beneficial for my future when I graduate.