Criteria to Finding Ideal Jobs | GetLinks x UX/UI Designer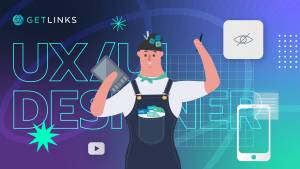 What is your position and how long is your working experience? 
I'm a UX/UI Designer and I've been working for 2 years. 
Could you describe your position in three words? 
Understand users, design, and test. 
What advice would you give to someone who wants to work in your position? 
The first round is crucial in entering this field which is the portfolio round. This round showcases your thought process that goes behind the designs to accommodate users. Usually, in the portfolio there will often be case studies showcasing two to three projects. Apart from an impressive portfolio, you can take on UX/UI courses, like Google UX Design Certificate or Interaction Design Foundation. This will help elevate your profile and get through the interview with flying colors. 
What are your top priorities when evaluating potential job opportunities in the tech industry? 
The most crucial thing is selecting the right job that you'd want to take on and can help further your career and skills – be it a challenging project, the company's culture as well as a good working environment. Aside from this, I also take the salary base into consideration and another important factor is potential career growth. These are the top of mind priorities when it comes to job opportunities. 
How do you determine if a company's culture and values align with your own? 
The first thing to consider is to read through the available job description thoroughly to understand the details and the company culture. By doing so, this can help us decide whether the culture fits with us or not. Then the next step is to do more research from their website and social media. The interview will act as the final factor for decision making if the company culture is what you are looking for or not. 
How important is the size of a company to you? Would you prefer to work for a large corporation or a startup? 
In my opinion, the size of a company doesn't matter all that much, what's important is the scope of work. The scope of work will dictate your career growth. Working for a startup means there are many tasks that can help with developments and will help upskill us as talents to grow with the company. 
How important is the opportunity for professional growth and development to you when considering a new job? 
It is extremely important. As mentioned before, the scope of work of different companies vary. When I consider moving to a new place, I need to make sure that professional development is available and holds the same values as I do. For example, I'm working on User Interface right now, I might be looking for a position that allows me to work on User Research to help with my own upskill process. 
What type of work environment do you prefer? Do you prefer working remotely or in an office setting? 
I personally prefer a very laid back office environment that offers work life balance. I'm always up for learning new things and facing challenging tasks. My preferred work environment is a hybrid workplace that we can meet at the office once or twice a week. 
What are your must-haves in terms of compensation and benefit packages? 
Health insurance, annual bonus, and educational funds for reskilling and upskilling myself. 
If you're looking for the perfect UX/UI designer position, be sure to reach out to GetLinks! We guarantee to help you find the perfect job that fits your criteria to promise for an enjoyable workplace environment.
GetLinks, get jobs!