GetLinks x Trienpont International: Digital Powerhouse with Global Projects!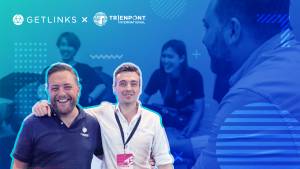 1. Who are Trienpont International
Trienpont International is a technology company originally founded in Belgium in 2009 before relocating to Thailand in 2020. The company's focus is on delivery quality to their clients and clarity to their team members.  
Despite the pandemic at the start of Trienpont International's Thailand journey, the company has experienced explosive growth over the last 2 years. This transformed the company into a true digital  powerhouse with many interesting projects around the world! 
Some of Trienpont International's projects: 
App Development: 
Client: Hertz (Mobile App for Global Car Rental Company) 
Trienpont team created an app for the Global market, where clients can rent vehicles from the Hertz app autonomously. Our mobile app allowed users to choose a car, pay for it, locate it, unlock the doors and even start the engine.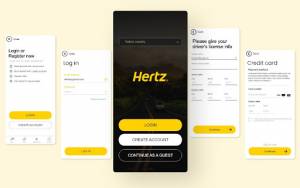 2. Web Development 
Client: Carrefours (Document Flow and Admin Management System ) 
At the start of the Covid 19 pandemic, Carrefours needed their operations to continue with minimal human interaction. The Warehouse & Stock Management platform Trienpont team developed allowed them to centralize the administration of warehouses, and allow administrators to work remotely. Once Covid-19 restrictions were lifted, Carrefours benefitted from the cost saving benefits from their newly centralized admin workforce and reduced headcount!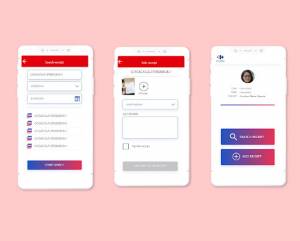 3. Software Development: New POS For Multinational Supermarket Chain
Trienpont International's client joined the development team of a delayed and over-budget project to develop a new and improved Point of Sales (POS) system for a multinational supermarket chain with over 2,000 outlets. In collaboration with the client's team, Trienpont International managed to complete the project successfully, and some of the team members were retained for support and maintenance during the handover period.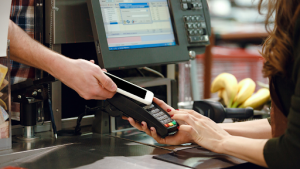 2. Culture & Working Environment 
Trienpont International Thailand is a multinational and multicultural company with a Global Presence, meaning the team works with a variety of clients from all over the world. This gives the employees a chance to explore endless opportunities, to learn how things are done differently from everywhere around the globe. The working environment at this company encourages open communication, creativity and collaboration. 
Since it is a workplace that encourages people to explore new ideas, the working environment is centered around knowledge and experience sharing. If you're looking for a company to help you grow, Trienpont International is the right place for you! 
Trienpont International welcomes the younger generation as well! The company promotes career advancement opportunities – they believe in the potential of the next gen. The team coaches and guides rising talent to grow and become future successful leaders! 
The team also bonds well with each other through quality time, great food and other fun activities to help bring the team closer together.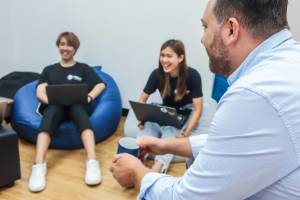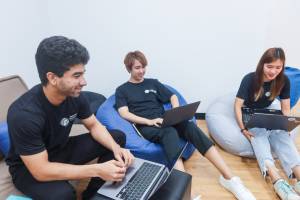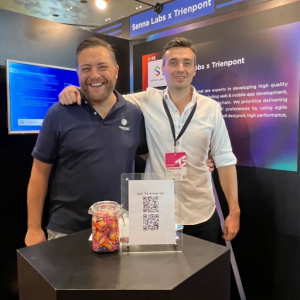 3. Team structure 
At Trienpont International, teamwork is a must – the company works together as one team. The company believes in the ethos "Teamwork Makes the Dream Work" so much that the motto is written in LED sign on the wall.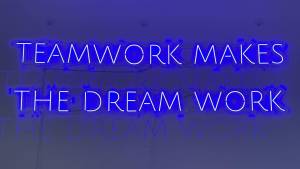 However, when it comes to projects and support tasks, they  separate into teams as necessary. The team can last from a few days to a year or more depending on the project requirements. However, the team actively works so the different teams working on projects don't get siloed. The teams encourage information sharing across the workforce and fight for inclusion, especially with remote workers who don't get to see their coworkers as often. 
Team Communication
Trienpont International team communicates primarily through Slack and uses Jira for project management, with daily standup meetings for projects and support teams. On top of this, there are weekly meetings with other departments (HR/Admin/Marketing) and a monthly Town Hall with the whole company. Open communication and collaborative problem solving are encouraged here!
The company also offers hybrid or remote working arrangements depending on your location. The main office in Asoke was chosen due to its easy access (BTS, MRT, ARL and even boat!), and its plethora of amazing and affordable food options nearby.
4. Benefits 
At Trienpont International, employees will always have the chance to upskill and reskill themselves, including finding the way of working that fits them the best. Let's take a look at the benefits that the company has for the employees. 
Training courses & knowledge sharing: Trienpont International offers training courses and knowledge sharing for the internal team, and helps the team understand each other in order to elevate their workflow. 
Hybrid work options: Commuting in Bangkok can be understandably draining. Explore your ideas around you with Trienpont International's hybrid work options. You can work from anywhere as long as you are responsible for your tasks! 
Project Incentive Bonuses: Aside from the many projects where you can learn and gain more experiences, at Trienpont International, there are also projects that have incentive bonuses for you to work towards – if monetary result is your motivational factor!
Generous annual leave allowance: Work hard but also play hard. Trienpont International offers a generous annual leave allowance for employees to relax, gain new ideas and explore new things all around!
Annual Bonus: The company offers an annual bonus as an incentive. 
Group Insurance: As for the employees' health, Trienpont International has group insurance available for everyone within the company.
5. How to join Trienpont International?
The best way to get in touch with Trienpont International's HR team is of course through GetLinks. Or, you can email [email protected], or contact K. Pear through LinkedIn. Once the company receives your resume, they will get in touch to arrange a first interview to see if you'd fit perfectly right into their teams. The company values people with the right attitude, skills and similar vision over certificates and other pieces of paper. 
There are three easy steps in the recruiting process:
The first step is a chat to see if the candidate is a good fit for the company, and vice versa. 

The next process after the chat is an interview with one of their Directors or Head of Department. 

For the last step, candidates will be given a technical test (online) then proceed to an interview with one of Trienpont International's Tech Leads or Head of Engineering (specified for developers and QAs)
Trienpont International aims to complete the entire hiring process within 1-2 weeks after the candidate's first conversation with the company. If you're interested in working with Trienpont International, scroll down to check their open positions and apply via GetLinks!
6. Open positions
If you've read up this far and are interested in the working culture of Trienpont International, great news for you! Trienpont International has many opening positions for you to join their team in the Tech Industry. If you're interested, don't forget to apply for these open positions at Trienpont International. 
1. Full Stack Developer 
Skills: React.js, Node.js, Vue.js, Laravel, Golang, Flutter, React Native 
Salary: 30K-150K, Based on your experience
2. Front End Developer 
Skills: React Native, React.js, Vue.js, HTML5, Bootstrap, CSS, Flutter
Salary: 30K-80K, Based on your experience
3. Back End Developer
Skills: PHP, Laravel, Node.js, JavaScript, Python, Golang
Salary: 30K-100K, Based on your experience
4. DevOps Engineer
Skills: Have a strong understanding of AWS, Alibaba Cloud and DevOps Tools including Git, Docker, Azure etc.  
Salary: 30K-100K, Based on your experience
5. CMS/Wordpress Developer 
Skills: WordPress, HTML5, Bootstrap, CSS, PHP
Salary: 25K-60K, Based on your experience
Send resume to [email protected]
Or apply via here: https://jobs.getlinks.com/company-trienpont-international-jobs/1 
Linkedin / FB / IG: Trienpont International