Intern Sharing – Marketing Content Creator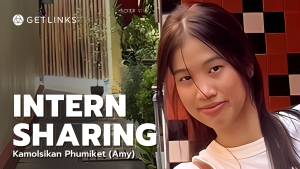 Introduction
Hi, my name is Kamolsikan Phumiket, my nickname is Amy and I am now 19 years old. I'm currently studying in the 2nd year for a Bachelor Degree of Business Administration in Hotel Management at Dusit Thani College, Bangkok Branch. I had the opportunity to intern at GetLinks for 2 months, for the period of 19th June through 9th August 2023. 
Describe your intern positions at GetLinks 
I'm an intern at GetLinks in the Marketing team, my main tasks involve creating content videos about the company for our fixed target audience, filming content videos for different platforms such as TikTok, Instagram, and Facebook, etc.. Moreover, I also had opportunities to support on-site events to support the team. 
Why have you chosen to intern at GetLinks? 
Since GetLinks is a startup company, I am confident that it will provide me with ample opportunities to acquire new knowledge pertinent to their business. Upon being assigned tasks within the Marketing Team, I am thoroughly enjoying my role as a team member and I am enthusiastic about learning extensively through this experience. Additionally, GetLinks supports flexible work arrangements for its employees.
Share the things you've learned from your internship with GetLinks
I gained valuable insights from my time with the Marketing Team, encompassing a variety of skills such as content creation, filming and video recording, video editing, blog writing, and providing event support. Moreover, I acquired the ability to function effectively within a collaborative team environment, honed time management skills, and developed the courage to seek advice from my colleagues when needed.
As interns who are about to enter the working age, how do you picture your future corporate culture?
In envisioning my ideal future corporate culture, I see a dynamic environment characterized by several key attributes. First and foremost, strong teamwork would be at the core, with employees collaborating seamlessly to achieve shared goals and drive innovation. Embracing gender diversity is another crucial aspect, where every individual's unique perspectives and contributions are valued regardless of their gender.
This culture would also emphasize working flexibility, recognizing that different responsibilities and personal commitments necessitate adaptable schedules. This flexibility in working hours would promote a healthier work-life balance and enhance overall well-being. Lastly, a positive working environment would be fostered, promoting open communication, mutual support, and opportunities for professional growth. This envisioned corporate culture aims to create a space where employees thrive, ideas flourish, and collective success is cultivated.
Any advice for the juniors growing into this spot? 
When you have an opportunity as an intern with any company, take the chance to learn and gain as much experience as you can.