How to increase your salary in the Tech Industry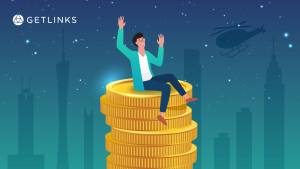 Working the job you love with the salary you like is an important factor of having a happy workplace. If you have been wondering what are the ways you can increase your salary as a talent in the Tech Industry, we've got you covered. 
GetLinks has compiled a list of a few things you can do to increase your salary while also improving yourself in order to reach your ultimate career goals. 
Let's take a look at ways you can increase your salary!
Develop your skills and stay up-to-date with the latest technologies: 
Invest time and effort in learning new technologies and expanding your skillset. This will make you more valuable to your current employer or to potential employers.
Network and build professional relationships: 
Attend conferences, meetups, and events where you can network with other tech professionals. Building strong professional relationships can lead to new opportunities and introductions to potential employers.
Seek out new opportunities: 
Look for opportunities to take on new projects, lead teams, or take on more responsibility at your current job. This can demonstrate your value and ability to your employer and make you a more attractive candidate for promotions or higher salaries.
When you are offered a new job or are up for a raise, it is important to negotiate your salary. Do research on the typical salaries for your role and industry, and be prepared to discuss your accomplishments and the value you bring to the company.
Consider freelance work or starting your own business: 
Freelancing or starting your own business can provide you with the opportunity to charge higher rates for your services and increase your overall earning potential.
Remember, increasing your salary in the tech industry requires a combination of developing your skills, networking, seeking new opportunities, negotiating effectively, and being proactive about your career development.
If you are looking for new opportunities in the tech industry, don't forget to talk to GetLinks' Recruitment Consultants! We have staff available to help match you with the right job along with the right benefits and salaries. Let us help you find the job you deserve, and the salary you desire. 
Before moving to a new job, you can book our free CV Clinic session to level up your CV to impress potential hirers. Our Recruitment Consultants will be there to guide you through the whole process! 
Remember, GetLinks Get Jobs!