Good CSR Campaigns from companies during COVID-19
At this time, the severity of the "Covid-19" pandemic has continued with no signs of decreasing where all sectors, especially the medical staff, are still working hard as well as many companies that have to adjust to being able to continue during this period.
As a result, some companies have come up with campaigns to help people who are affected by the pandemic where not only it can enhance their brand image, but the campaigns can also gain their consumers' hearts. But firstly, let's get to know
what CSR is and how it started?
CSR (Corporate Social Responsibility) has been around for over 200 years, even though the initial intention of this business practice back then was not really sincere but has also led many organizations to share their responsibility for the society since the companies realized it's not good to be too late for social awareness. Many companies have started to return the profit to society.
But in the business world, making a profit is the most important thing. Results from investing their profit in CSR can't be immediately seen in the short term. It may even cause some dissatisfaction to the stakeholders since they may feel that they are losing more than gaining.
Companies that engage in CSR will definitely make good impressions towards consumers and may result in their service/ product consumption as well as gaining brand loyalty which will increase their income and enhance their sustainability as well.
Google
During this time where information is transmitting and spreading rapidly, searching through Google is the preferred choice for most people to rely on getting more information. For example, since the first week of February, search interest in coronavirus has increased 260% globally. This made Google update this section by trying to provide people with the most useful information as much as possible. For those looking for information on specific symptoms, prevention, or treatment, Google has put together all educational resources for COVID-19 related health conditions.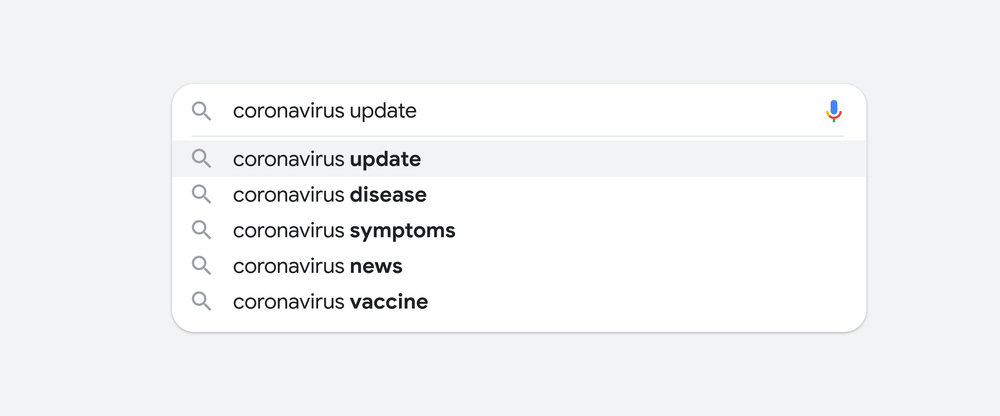 Or on the YouTube homepage where there will be a link for users to click to find information from WHO (World Health Organization) or related organizations in that particular country as well.
Google also announced a $7.5 million donation, along with other support, to help mitigate the crisis in five countries: Thailand, Malaysia, Vietnam, the Philippines, and Pakistan where a total of $300,000 will be allocated in aid to Thailand. UNICEF will use the proceeds to provide hygiene supplies such as soap, hand sanitizer, alcohol spray, cloth masks, and disinfectants. These devices will be sent to provinces that are at high risk and severely affected by the latest wave of the COVID-19 outbreak. UNICEF will also continue to support the government and civil society in controlling the spread of COVID-19 and reduce morbidity and mortality rates including preparation to cope with the situation of COVID-19 and the new waves that may arise in the future.
Facebook
Similarly, Facebook helps people find reliable information about COVID-19 by providing tools and resources to stay safe as well as being connected during the COVID-19 pandemic.
As well as granting $100 million to boost 30,000 SMEs in 30 countries hoping to alleviate the impact of COVID-19 on them. Facebook currently has more than 140 million entrepreneurs on the platform which Facebook then issued a policy in order to provide assistance to those affected in 4 aspects. 1. Reliable information 2. Support the work of health professionals 3. Against false information 4. Can provide assistance to the government, citizens and businesses, especially small businesses and Facebook has launched a #SupportSmallBusiness campaign to help SMEs as well.
Facebook said, "Over 78% of Thai SMEs on Facebook use the platform to showcase their products and services to customers, with about 9 in 10 saying social media is essential to their business along with 94% saying promoting their products and services through digital channels including social media and is very important to them". In addition to the new features and other supporting measures, Facebook is also preparing a $100 million donation to finance 30,000 SME businesses in 30 countries around the world.
Robinhood 
(Pic: nation)
Helps Siriraj-Rama Hospital by taking care of the food delivery for covid patients who are being treated at home (Home isolation). Robinhood held hands with local restaurants to prepare all 3 meals over the period of 14 days with volunteer drivers to deliver them to patients without any delivery charges.  
They launched a "Free delivery on all orders during lockdown" campaign to push orders for small local restaurants and take care of customer expenses as well as helping the riders get the full delivery fee. Moreover, Robinhood is also supporting hotels including by bringing the menu of the restaurant serving in the hotels onto the platform with no charge to allow restaurants to earn full amount money from their sale and customers just pay for the same price as going to the restaurant.
FutureSkills 
FutureSkills, a platform that provides upskills courses in collaboration with the Mitmaitri Medical Clinic to organize a free course about "Insight of COVID-19 (Coronavirus)" to prepare people, prevent and also take care of themselves during the pandemic. Through this course, you will learn about the origins and the nature of the virus, the symptoms when infected, protection methods, how to keep yourself safe and everything you should know about COVID-19.
There is also a campaign to help people who are unemployed or losing their jobs by launching a free course every week to help people spend their free time to expand their knowledge for their career path.
Good Doctor Technology Thailand
Good Doctor Technology Thailand, a telemedicine service provider offering new medical services has recently launched a health consulting campaign with the medical team via the application for free for 30 days without consulting costs. Users can talk to a medical team to consult, order a COVID self-testing kit, follow up after vaccination and also buy medicine safely that will be ready to deliver in 1 hour along with many more health-related features for up to 100 accounts.
It is now open for registration from today onwards for GetLinks followers only. Just register at their LineOA @gdtt and enter the code get@gdt2207 to get your access via the app.
All of these are just part of the campaigns of many companies that are offering help to help society where there are many more companies that have launched beneficial campaigns to society as well. GetLinks would also like to deliver our encouragement to the Thai community and to all the medical teams. Let's get through this terrible situation together.
Source1 Source2 Source3 Source4 Source6 Source7 Source8
✦✦✦